Caudalie presents the revolutionary care product for sun protection. Vinosun Protect High Protection Fluid Cream SPF50+ provides an antioxidant effect even on the most sensitive skin, while offering UVA/UVB protection for the face and neck area. You can enjoy pure and invisible sunscreen every day thanks to its ultra-light and fragrance-free formula that does not leave any marks on the skin.
Clean, streak-free protection you can use every day
The Caudalie Natural Formula Development Laboratory has developed a high-protection sunscreen with an ultra-light and non-marking texture. Its application is pleasant and ideal for daily use. It does not contain perfume, the smell of chemical filters disappears in a few seconds.
It provides effective protection against harmful sun rays (UVA, UVB, photoaging) when used immediately after your skin care routine and as a make-up base. Rich in patented polyphenol antioxidant complex, it blocks free radicals that cause premature aging.
Responsible sunscreen
Chemical filters such as oxybenzone and octinoxate are not included in its formula, four broad-spectrum sun filters protect the skin and the environment with its highly biodegradable formula. Tested to be non-toxic to the ocean ecosystem, the cream is made from recycled plastic and its packaging is 100% recyclable with the goal of reducing plastic waste.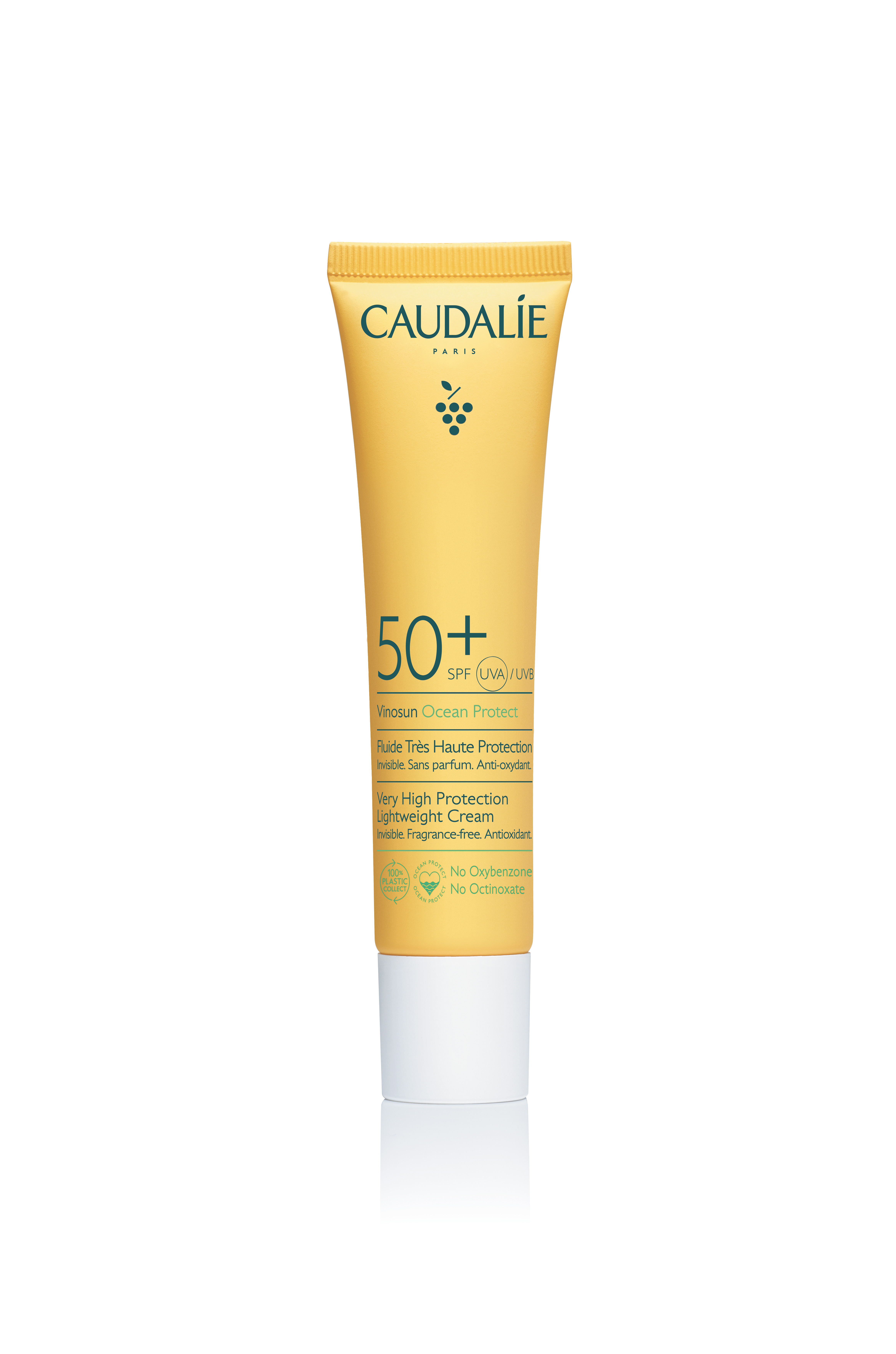 Caudalie Vinosun High Protection Fluid Cream..

"Since 2020, we at Caudalie have been working to collect and recycle as much plastic waste as we produce."Mathilde and Bertrand Thomas, founders of Caudalie Sun.
100% Plastic Collect Initiative
Since its establishment, Caudalie has acted with a superior environmental awareness by constantly developing cleaner and natural formulas, making product packaging environmentally friendly and collaborating with the 1% for the Planet Foundation for afforestation efforts. In 2020, Mathilde and Bertrand Thomas joined forces with Pur Projet founder Tristan Lecomte. They established 100% Plastic Collect in Bali and Thailand, which ranks 6th in the world in terms of marine pollution. Sun
How?
Plastics are collected on beaches by local people.
It is then turned into granules on site for reuse.
Thus, this recycling program gives waste a second life.